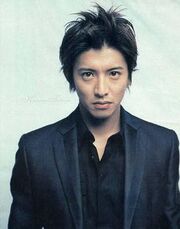 Yasuyama Akira the Younger (安山朗2世, born August 12, 2225) is a forces mage and was a lieutenant in the Imperial Army during the
3rd Civil War
. He is the son of
Hikaru
and
Akiko Yasuyama
. Unlike his older brother
Akihiro
, Akira preferred athletics to academics and joined the
Eastern Bloc
's military at his father's direction.
Military Service
Edit
His first combat was actually the relatively tame task of seizing the Earth Federation's embassy on Showa, but his unit was quickly assigned to the defense of Epsilon, where it faced off against Alistar Dimiye's Dead Boy Brigade and Strong Eagle. When it became clear to the higher ups in the Imperial Army that Alpha Epsilon could not be held against its Tech Infantry liberators, the decision was made to destroy the entire city with a nuclear bomb, killing over 50,000,000 people. Akira had reportedly been killed by the nuclear detonation, but he has since resurfaced.
Ad blocker interference detected!
Wikia is a free-to-use site that makes money from advertising. We have a modified experience for viewers using ad blockers

Wikia is not accessible if you've made further modifications. Remove the custom ad blocker rule(s) and the page will load as expected.