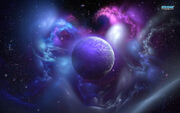 The World Of Darkness Wikipedia is another resource for information about werewolves, mages, vampires, ghouls and other information related to the fantasy side of the Tech Infantry. It is provided by the well known Wikipedia website

Most of the information found on this website tends to be very general, but it does provide a ton of material for players looking for basic information for one of the main types of races that are playable in the Tech Infantry. Below is a link.
Behind the Scenes
Edit
The image for this entry was retrieved from Superb Wallpapers.com.
Ad blocker interference detected!
Wikia is a free-to-use site that makes money from advertising. We have a modified experience for viewers using ad blockers

Wikia is not accessible if you've made further modifications. Remove the custom ad blocker rule(s) and the page will load as expected.