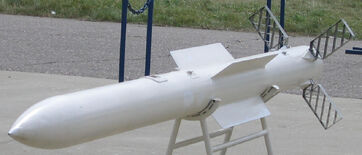 The Wakizashi Missile is a light, shortrange dogfighting missile for use by starfighters, originally operated by the military of the Eastern Bloc. Introduced as the smaller, shorter-ranged companion to the Katana Missile in the late 2100's by Chin Hua Heavy Industries, it has since been adopted by many other services and a variety of civilian and paramilitary organizations. After the fall of the Eastern Bloc, the manufacturing license was sold to Anshin Heavy Industries of New Tokyo, and they produced the later variants used by the Federation and Imperial militaries.
Behind the Scenes
Edit
This is another bit of Technobabble Martin wrote up in draft from for Season Eight but which never made it into the story.
Ad blocker interference detected!
Wikia is a free-to-use site that makes money from advertising. We have a modified experience for viewers using ad blockers

Wikia is not accessible if you've made further modifications. Remove the custom ad blocker rule(s) and the page will load as expected.