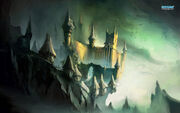 The White Wolf Wiki was created in 2004 and contains over 6000 articles. This is one of the primary sources in determing the history of many of the werewolf, mage, vampire, and ghoul groups. It also provides rules that were based upon associated books published for table top game play. While the Tech Infantry does not use the specifically in the stories written by players, they do provide ideas to players to give them some idea what their characaters are capable of

Below is a link to their main website.
Ad blocker interference detected!
Wikia is a free-to-use site that makes money from advertising. We have a modified experience for viewers using ad blockers

Wikia is not accessible if you've made further modifications. Remove the custom ad blocker rule(s) and the page will load as expected.