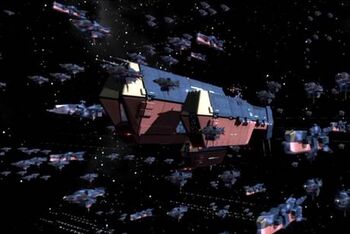 There are many types of starships in the Tech Infantry universe, from small shuttles barely larger than an aircar, up to massive Vin Shriak Worldships that rival the size of many moons.
For more information of warship armament, see Shipboard Weapons.
Types of Starships
Edit
Warships: Corvettes, Frigates, Destroyers, Light and Heavy Cruisers, Battlecruisers, Dreadnoughts, Star Control Ships, Carriers, Assault Transport, Umbral Dreadnought
Civilian Starships: Freighters, Passenger Liners, Tankers, Bulk Carriers, Cargo Pods, Pod Carriers, Repair Tugs, Research Vessels
Small Craft: Cutters, Repair Pods, Shuttles, Pinnaces, Starfighters, Interceptors
Human Starship Classes
Edit
Freighters:
Jurvain Starship Classes
Edit
K'Nes Starship Classes
Edit
Bug Starship Classes
Edit
Pages in category "Starship Classes"
The following 51 pages are in this category, out of 51 total.
A

B

C

C cont.

D

E

F

G

L

M

N

O

P

R

S

U

V
Ad blocker interference detected!
Wikia is a free-to-use site that makes money from advertising. We have a modified experience for viewers using ad blockers

Wikia is not accessible if you've made further modifications. Remove the custom ad blocker rule(s) and the page will load as expected.