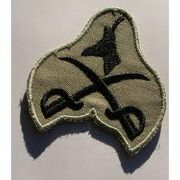 There are many factions vying for supremacy over the galaxy in the universe of Tech Infantry.  There are other factions simply struggling for survival, and many more that have already fallen onto the ash heap of history... or which have yet to rise in the future, or which exist only in an alternate timeline.  And even those groups which are seemingly gone for good can sometimes rise again to the shock or amusement of all.
Active Factions
Edit
These factions are currently active and operational, and will presumably appear in Season 10.  The Houses of the Holy Terran Empire essentially constitute human sub-factions.
| HUMAN FACTIONS | ALIEN FACTIONS | VAMPIRE FACTIONS |
| --- | --- | --- |
| | | |
Defunct Factions
Edit
These guys are, as far as anyone knows, gone for good.  But never count them out entirely, there may be powerful people and groups who want to restore them to their former glories.
| HUMAN FACTIONS | ALIEN FACTIONS | VAMPIRE FACTIONS |
| --- | --- | --- |
| | | |
Alternate Timeline Factions
Edit
These guys only exist in the future Y3K Universe, or in alternate timelines like that of Season Eight.
| HUMAN FACTIONS | ALIEN FACTIONS | |
| --- | --- | --- |
| | | |
Pages in category "Factions"
The following 29 pages are in this category, out of 29 total.
A

B

C

E

F

G

H

H cont.

J

K

M

N

S

T

V

W
Ad blocker interference detected!
Wikia is a free-to-use site that makes money from advertising. We have a modified experience for viewers using ad blockers

Wikia is not accessible if you've made further modifications. Remove the custom ad blocker rule(s) and the page will load as expected.